Kings boxing Academy Braves return from competing in Balham London on Saturday 19th Feb, the team travelled with only 3 boxers from the selected 6 that were matched. The 3 boxers that entered the ring to compete all had a change of opponents. Sadly the 3 boxers that were unable to box had up to 4 opponents pull out adding to the frustration of getting our competitive boxers into the ring.
First up was Max Timmins (39 KG) who has had his fair share of opponents letting him down, his skills bout was an even bout and a positive step towards his full contest.
The club saw the debut of their gentleman boxer Flava-Flav Wrinkler-Ford (69 KG) who had prepared well for this bout against Sharma Ramsey from Balham ABC but his energy and punch-power drained in the last round resulting in a loss.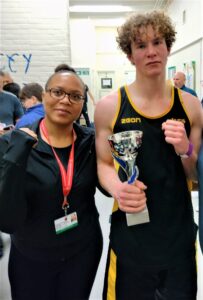 Finally the club's light heavy-Weight 18 year old Joe Kneen (83 KG) made his return to the ring after 3 years out for his 1st adult contest, he made an impressive start to take command and deal with a much more experienced and stronger boxer from Balham ABC wining the contest by a unanimous decision. During the contest Joe had knocked (85 KG) 25 year old Jason Ashford's gumshield out several times along with his head-guard to enforce his triumphant win!
Kings Boxers will be in action again in Bristol in a few weeks and then in full preparation for their 'Home Territory' show on Saturday 2nd April 2022, tickets available from March 2022.