Kings Boxing Academy won both their South West ABA matches in Camberley and put out one of their new junior boxers on the same day in Bath City.
If you sit back and do the equations: a 365 mile round trip, 1 regional contest with 2 Kings' boxers, 2 locations, Camberley and Bath City plus 1 junior boxer equals 1 proud coach and an outstanding team. Saturday 18th November was an eventful day for Team Kings with their coach and two of their selected boxers, current Novice Champion Charlie Ryder and middle-weight George Clark. The team were selected to represent the South West ABA Verses South West London ABA, First out was George Clark winning the contest by unanimous points.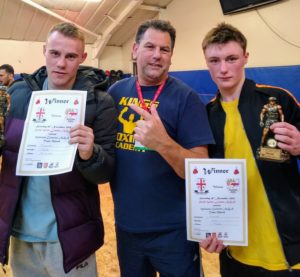 Next was Charlie Ryder who boxed well to bring home another unanimous win for the team. 'We are doing things right in our gym, I am teaching a strict regime of high-end fitness, discipline, smart technical skills and excellent ring-craft'. 'Our record and performances speak for themselves' said their proud coach Chris Rattenbury.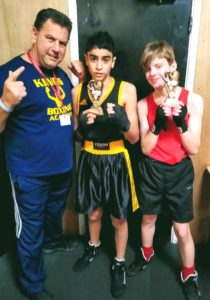 After finishing up with affairs in Camberley Kings' coach travelled cross-country to Bath City to prepare one of their new breed of boxing braves 13 year old Ciwan Ozbek. This was a good performance for his first time in the ring and his skills were exactly as anticipated for him to out-box his opponent from Bath City ABC.